This has been a question that I've been thinking for some time now. What with findings such as the Hell Creek Formation having more seasonal weather within the Cretaceous, the world has quite literally opened up for Prehistoric Kingdom; we are now no longer restricted to having islands off the coast of Costa Rica as the location for our park, we can build our parks in any location of the planet. And so I ask this question to the members of this forum:
Where in the world, would you build your Prehistoric Kingdom?
Personally, I would build my park in the Azores, on an currently as of yet uninhabited island that the Portuguese government will be willing to lease.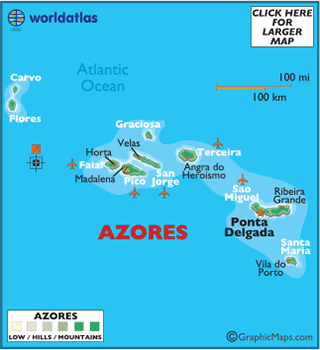 I believe this to be the perfect location for PK as the average air temperature varies between 11-26 degrees Celsius depending on the time of the year and the surrounding Atlantic ocean averages between 15-25 degrees Celsius; just right for both the visitors and all of the prehistoric animals that will be living on the island. Heck there could even be the chance to allow animals adapted to the cold such as the Wooly Mammoth and Megaloceros out of their chilled, indoor habitat to the outside world to graze and migrate. And as the islands are prone to rainy days due to its location, the modern and prehistoric flora will remain healthy consistently.
This location is also perfect for Prehistoric Kingdom, as it is both isolated from the world and at the same time a stone's throw away from civilisation. The Azores are located 950 miles west of Lisbon, so the mainland has absolutely no need to worry about the animals reaching the mainland! But the islands can be reached by plane within a couple of hours, (if there is the opportunity; the Prehistoric Kingdom island may even be reached by 3 modes of transportation, ferries, cruise ships and the "bus" plane service that hops around each of the islands of the archipelago!). The islands are also located between 3 continents; Europe, Africa and North America.
And finally Europe has to have another great theme park in order to compete with North America. North America may have Disney World and Universal Studios, but Europe has Prehistoric Kingdom; the 8th wonder of the modern world!
Anyway the Azores will be my location for Prehistoric Kingdom, but I now ask the forum; where will you build yours?